My Super Affiliate Builder- Create Interactive Quiz Funnels And Increase Your Conversions
My Super Affiliate Builder – How To Create Successful Campaigns With Penny Clicks on FB Ads, With High Conversions and ROI, Using Interactive Quiz Funnels .
Get compliant with fb ads strict rules for affiliate marketers, avoid ads and accounts suspensions, achieve visitors engagement and interest, learn what your specific audience needs and customize your offers to them so that they solve their personal problems, easily collect leads, retarget your segmented audience.

Advantages of Quizzes:
It Is a proven and well tested way to create engagement and warm your traffic before you redirect your visitors to your offers
For the most part are follow the social media advertising platform policies ( in particular fb which has strict rules and is not favorable to affiliates. A lot of affiliates have their ads and accounts suspended because facebook does not allow direct linking to affiliate offers, a lot of sales pages are automatically blocked, for example clickbank . In addition, certain words, phraseology, over hyped claims are not allowed. For example : ''here is how to lose 20 lbs in a week'' , or '' do this and you will become a millionaire in 3 months'' are not allowed. Furthermore, facebook is strict for simple optin pages when the visitors as to say is dericted to a page with no contect but only a headline and optin form with the purpose to collect emails )
The visitors percentage of clicking on quizzes is high and in combination with a extended time that someone remains in the page, thus making the advertising cost and cpm or ppc less expensive. This is a way to get penny clicks.
What an interactive quiz is, and the difference between interactive and regular quiz funnels:
The difference between an interactive and simple, regual quiz is that the visitor to different sequence of questions, and emails lists according to the specific preferences, characteristics and problems that want to solve. The advantage is that you deliver more value to the customers providing with the solution and offer that meet their needs and hence are more prone to accept and buy your offers.
Conversion Rate
Interactive content provides real value to users thus boosting conversion rate exponentially.
Bounce Rate
Interactive content takes users on a journey to the results page thus reducing bounce rate.
Social Share
Interactive content is more engaging and personal, increasing your share rates and referral traffic.
Unlike Ads, Interactive Content Adds Real Value
It builds trust by answering your customer's most pressing questions early on in the buying cycle.
Buyers who don't convert the first time will use interactive content. It forms the optimal step in the buyer journey between the first visit and the eventual buy.
Audience Segmentation and Targeted Sales
Interactive content helps you find out much more about your audience beyond name and email. You can use this information to categorize them into specific segments including territory, industry, budget, outcome/result etc.
Interactive content-based segmentation along with our powerful integrations helps you assign each segment to specific sales people and to specific lists, which allow for more personalized and targeted sales followups.
An example of an extremely successful ecom campaign for personalized jewelry by the super affiliate Carlos Cruz. Carlos Cruz explains how he managed to literally crush t using the strategy of interactive quizzes a few years ago.
My Super Affilaite Builder – Software and Training:
Super affiliate builder is a wp plugin. You install it as you would with any plugin and build your pages inside.
The training covers step by step instructions on how to use every single part of this process ( edit your headers, footers, legal statements, suggestions and recommendations for a high converting quiz funnel structure
My Super Affiliate Builder Features and Advantages: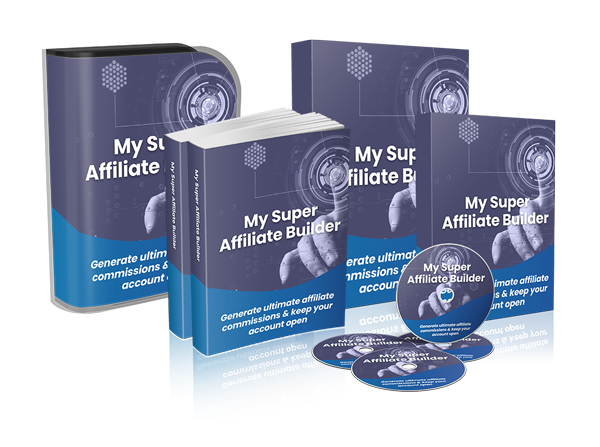 -Everything inside the builder is editable:You can upload an image or logo in the header of any dimensions, of course choose from a variety of fonts and colours for all your texts, use any image as your background.
-After the visitor responses to a question of the funnel is dow not get directed to another page but because it is build using javascript, the questions succeed another very quickly .This feature make the page to load fast and prevent visitors of exiting the page.
– create as many questions as you want with the option to use an image above each question,
– Visual drag and drop, chart flow of the questions that lead visitors to different questions according to their answers,
-Email pop up at the end of the quiz funnel which has the ability to direct the visitors to different email lists according to their answers, various email services integrations, –
– Integrations with zapier , a powerful tool that allows you to collect the leads for your customers, create files of the visitors details etc ( you need to have the premium account with zapier which costs 9 $/ month-totally worth it- so that you can build hook links . After the visitors give their email at the end of the funnel, you can redirect them to a direct sales page, or a thank you page, or an other landing page ( personalized for every visitors answers).
-Editable navigation bar,
-Optional true or false results report after quiz completion,
– Complete statistics and report from the answers and emails of your visitors,
You can also export your lists at an-y time.
Export specific lists and upload them to ANY autoresponder.
– 4 different ready to use funnel templates for ecom, affiliate marketing, local business, health and fitness niche
In the training and members area you will have the chance to watch how a now super affiliate named managed to turn a 200 $/ day revenue into $ 2000-5000/day using this software! This is approximately 10x of revenue growth.
Watch Live cash study-How Thomas Hit 41k-3k/ Day Using This…
My Super Affiliate Builder Is My #1 Secret Weapon In Achieving Record Breaking Conversions – Jam packed with all the features you will ever need – Can't recommend it highly enough!"
Thomas
Rocket Marketing
Super affiliate builder demo:
Super affiliate builder case study:
My Super Affiliate Builder pricing
My Super affiliate builder disadvantages-downsides:
It is a wp plugin, and you do not have the option of just copy a script and paste to whatever page or website you want . You need to only have wordpress cms site in order to use it.
Who Is My Super Affiliate Builder for:
All marketers without distinction, but also I would say for blog website onwners, too. ( checkout how Buzzfeed uses them)
Back to Top